Katy's Kloset
Medical Equipment Lending Library
262-746-9034
To borrow equipment, use  our new ONLINE REQUEST or call (262) 746-9034.  Visit the KK Lending Page for more information.
Equipment Donations & Returns:  Wednesdays 9:30-11:30 AM (except when closed)  Additional Hours:  Wednesday, December 6, 4:00-6:00 PM
Katy's Kloset onsite operations will be closed:  December 24 - January 1
Katy's Kloset Medical Equipment Lending Library, a service of Team Up! with Families, is a volunteer-driven, non-profit (501c3) organization that lends medical equipment and supplies at no charge to thousands of individuals in need each year. Equipment and supplies are donated to Katy's Kloset by individuals who wish to recycle and share items that they no longer need. Volunteers clean, inspect, and repair the equipment before it is loaned back out to the community.
We also distribute a variety of medical supplies, such as incontinence, wound care, feeding and ostomy supplies. Our surplus equipment and supplies are often donated to a local or foreign mission groups or are responsibly recycled. DME and supplies are loaned at no cost to the community, but we suggest a donation to ensure the viability of this important service. We are a non-profit, 501©3 volunteer-driven organization.
The average piece of durable medical equipment (DME) has a lifespan of over 5 years but is used for only four months. This leads to a large supply of slightly used DME that ends up in garages, attics or worse-landfills. We work hard at Katy's Kloset to put this medical equipment into the homes of people who need it.
Although equipment and supplies are loaned out at no charge to the customer, we do suggest a donation amount based on the value of the equipment borrowed. Click here to view our Online Catalog.
Borrowed equipment may be kept for as long as needed (a few items do have a short term loan period).
A signed loan agreement is required
All equipment is to be returned promptly when no longer needed
Katy's Kloset also accepts donation of unused medical supplies. See the Donations & Returns page for more informaiton.
Some of our customers are not able to make a donation, but still need the items. So, if you are in the position to "pay it forward," please help us to help others. Click here to learn how you can help.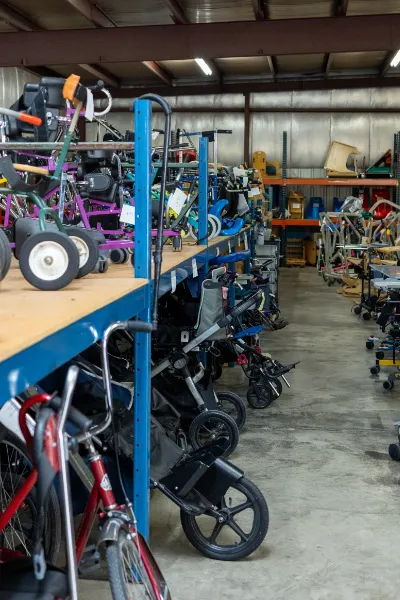 Why is Katy's Kloset Vital to the Community?
The right medical equipment and supplies can make a difference. But many people are falling through the cracks of our medical system. People are uninsured, underinsured, or subject to high deductibles. Supply chain interruptions delay the ability to obtain what is needed. Duplicate bathroom set ups may be required, but insurance only pays for one room. A piece of equipment may be broken or stolen. The list goes on.
We hear stories like these every day. We can help. This is why we are here.
Katy's Kloset is the largest organization of its kind in the U.S. We accept donations of gently used medical equipment and supplies and redistribute them to those in need. This year we will serve 4,000 individuals and their families. We don't charge for our services. All are welcome to borrow from us.
Volunteers Needed
Katy's Kloset is a volunteer-driven organization with committed volunteers donating 14,000 hours annually. Volunteers continue to be our foundation. However, they also have the flexibility to serve at their convenience. After 20 years, we hired our first paid Executive Director November 2021 to provide a foundation of support for our volunteers.
We are in need of volunteers throughout the week. Roles include:
Assist customers with pickup/drop off
Cleaning/inspection of equipment
Selecting equipment for orders
Sorting/restocking medical supplies
Loading mission trucks
Parking lot attendant
Order processing: work from home/computer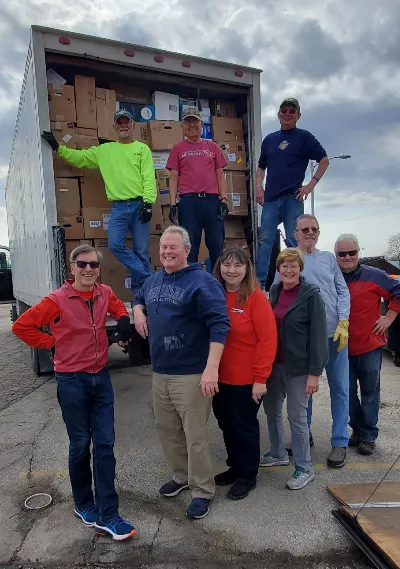 Donate Today or Get Involved
Help The Team Up Mission By Donating Today!
CONTACT INFORMATION
Team Up With Families - Katy's Kloset
404 Wilmont Dr D,
Waukesha, WI 53189
262-746-9034