Katy's Kloset
Frequently Asked Questions
blank
What is available to borrow from Katy's Kloset?
We have a 13,000 square foot warehouse with a wide variety of medical equipment and medical supplies available to the public. Some of our equipment available includes wheelchairs and scooters (manual and electric) walkers, canes, crutches, bathing, toileting and dressing aids, standers, lifts and hospital beds for children and adults. Supplies available include: incontinence, feeding, wound care and ostomy supplies.
What is the cost to borrow these items?
There is no cost to the public to borrow from Katy's Kloset. However, we suggest you consider a donation to help ensure the viability of this important service.
How long can I keep the equipment?
Most of our equipment can be kept as long as it is needed. There are a few items that are short term lending rentals. We will let you know when you pick up your order. This is a lending service, so prompt return of loaned equipment that is no longer being used is expected.
I have some medical equipment items that I no longer use. What does Katy's Kloset accept?
Does Katy's Kloset repair equipment?
Our volunteers are trained to complete simple repairs only, such as brake adjustment, or changing out a wheelchair wheel. We do not accept broken, or nonfunctional items.
How do I place an order?
Your first step is to go online and look at the inventory of what we typically have available. Please understand that we depend on donated items, so we can only" give what we get." There are times when some types of equipment and supplies are not in our warehouse, and you will be directed to call back in a week or two. When you know what you would like to request, call our main number: 262-746-9034. Listen to the prompts for adult or children's items and leave a clear message. An Order Specialist will call you back and put in an order for you.
What paperwork is required?
A load agreement will need to be signed by the person who placed the order, when the order is picked up. Our legal process requires that the person placing the order be the same person who picks it up. If the person picking up the order changes, you need to call the call center back so a revised order can be made.
How do I pick-up my order?
Order pick-up is by appointment only. The Order Specialist will give you an assigned time to come to the warehouse. Current pickup is Saturday mornings only from 9:00 to 12:00. Check the website for hours we are open or closed. We have volunteers available to direct traffic into lines, and your items will be brought out to the car for you. Please be sure to have space cleared in your trunk or seat for the order. Also, for the larger power equipment, be sure you have a vehicle large enough to fit the item.
If you are unable to pick up your order at your assigned time, or if you would like to cancel your order, call the call center, and leave a message on the reschedule line.
It is important to know that since orders are processed and the items gathered and staged in advance of the pickup day, items cannot be added to the order, or changed on the day of pickup.
How do I return my items after I am done using them?
Items can be returned during receiving hours. (no appointment necessary) PLEASE don't drop off items when we are closed. Since we are volunteer staffed, we only have teams to process donations at certain times during the week. Currently receiving is Wed am from 9:30 to 11:30. Check the website for current hours. We expect our items to be returned in good, usable condition.
Return or donation of a hospital bed is by appointment only. Call or text 262-955-1224 to arrange a time. (text is preferred)
Do you pick up donations?
Katy's Kloset does not pick up donation. We don't have adequate volunteer staffing, and vehicles available to us to pick up or deliver.
Is there anything I need to know about borrowing a power chair or scooter?
Where are you located?
Address:
404 Wilmont Dr. Unit D
Waukesha, WI 53189
Phone 262-756-9034
How can I support the amazing mission of TeamUp! With Families Katy's Kloset?
Please consider supporting us by volunteering, donating medical equipment, medical supplies, and of course monetary support. We are a 501c3 organization, and since our loan operation is no cost to the public, we rely on the generosity of individuals, foundations, grants, businesses, memorials, etc. to be able to provide this important service to our community. Help us to help others!
My question hasn't been answered...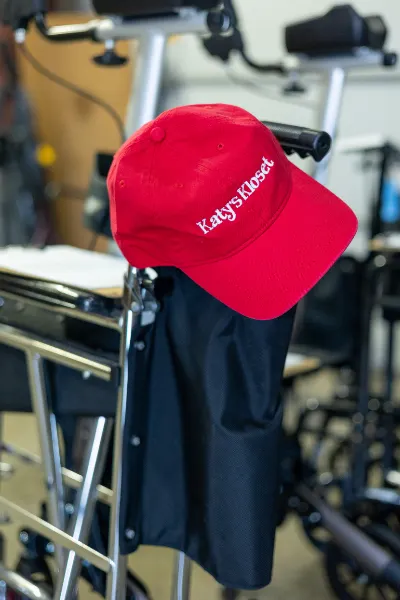 Donate Today or Get Involved
Help The Team Up Mission By Donating Today!
CONTACT INFORMATION
Team Up With Families - Katy's Kloset
404 Wilmont Dr D,
Waukesha, WI 53189
262-746-9034