Day Camp
Frequently Asked Questions
blank
When is camp?
Camp is typically held the last week in July at Harnischfeger Park in Ixonia, WI.
Who can attend?
Team Up! Day Camp is for campers whose primary needs are PHYSICAL.
My child has autism, can they come?
This camp is not a good fit for children with primarily behavioral, emotional, or sensory challenges.
Can siblings come?
Yes, Team Up! camp is for children with physical needs and their siblings ages 4-17.
How do I register?
All registration is done in-person during the month of May. Registration forms are available on the website beginning in early April.
Who works with the campers?
All staff at Team Up! for Fun Camp are volunteers. Campers with physical challenges that require a one-to-one "buddy" while at camp can be provided one through a joint partnership with the physical therapy program at Carroll University.
What is the ratio of campers to volunteers?
All campers with special needs will have a one-to-one buddy during their week at camp.
How can I volunteer?
You can sign up online under the Day Camp page. There are many volunteer opportunities. You can volunteer for one day or up to all four days.
My question hasn't been answered...
Please click here to fill out our contact form and we will respond as soon as possible.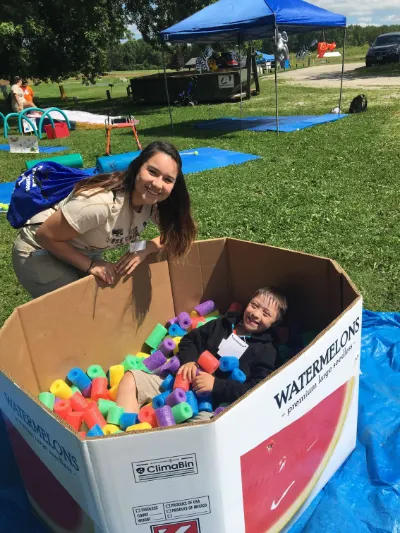 Donate Today or Get Involved
Help The Team Up Mission By Donating Today!
CONTACT INFORMATION
Team Up With Families - Katy's Kloset
404 Wilmont Dr D,
Waukesha, WI 53189
262-746-9034