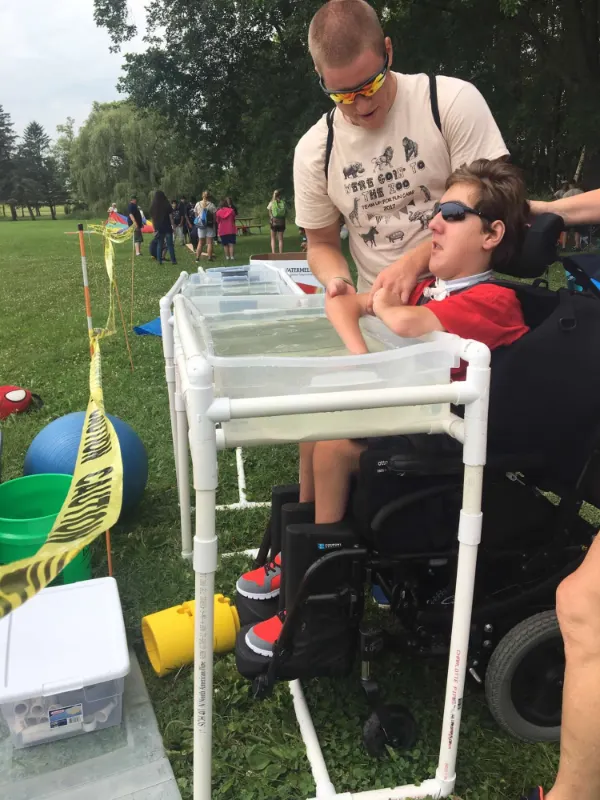 Volunteer at Camp
There are many volunteer opportunities available for individuals and groups at the Team Up! For Fun Day Camp. It takes many dedicated and compassionate people to make camp a successful experience. We would love to have you on our team. Read the volunteer descriptions below to learn about the positions needed.
blank
Group Leader (age 18+)
You are responsible for a group of up to 13 campers. You will be working together with parents, buddies and activity leaders to provide a quality camp experience. Group Leaders must be at camp all 4 days.
Assistant Group Leader (age 18+)
You are responsible for assisting the group leader. This would be a good opportunity to train for a group leader position in the future.
Provided Buddy
A family has requested you to be their child's buddy at camp. You will be helping them participate in group activities to the best of their ability. You would be responsible for assisting campers with activities and helping to get them around the camp environment.
Crafts (age 13+)
You would be leading and helping the groups during craft projects, and helping with set up and clean up.
Fishing (age 14+)
You will be responsible for preparing the poles for fishing, including working with the bait and removing fish from the lines.
Rock Wall (age 15+)
You would be responsible for helping campers get set up for climbing, assisting with harnesses and helmets. (Tues. and Thurs. only)
Horses (age 14+)
Would like volunteers to have some horse experience, responsible for assisting campers, side walking, helping with helmets, etc.
Kitchen (age 14+)
This would involve serving snacks and lunch to campers and volunteers, also set up and clean up.
First Aid
This would involve administering medications, changing diapers, assisting with G-tube feedings, and tending to minor injuries that occur on the camp grounds.
Co-Operative Games
Assist activity leader with various games and activities while working with each group as a cooperative team.
Obstacle Course
Assist physical therapist with a theme related obstacle course.
Grounds
Help with transporting campers to and from activities, filling water coolers, collecting garbage, etc.
Check-In
Need help Monday morning (8:30-10:00) checking in campers and volunteers
Photography (age 14+)
Take group pictures and various pictures of activities at camp.
Sensory Area (age 18+)
You will be assisting campers who are having difficulty staying with the group. There will be a variety of options at this station.
Donate Today or Get Involved
Help The Team Up Mission By Donating Today!
CONTACT INFORMATION
Team Up With Families - Katy's Kloset
404 Wilmont Dr D,
Waukesha, WI 53189
262-746-9034